It took about an hour, but I made it to the road on my now much-adored snowshoes. We are up to 72 inches of new snow and counting.
This is the view from the road looking up the driveway.
Can you see that dark speck? That is the top edge of our mailbox.
The pay loader arrives!!! Wahoo!!!!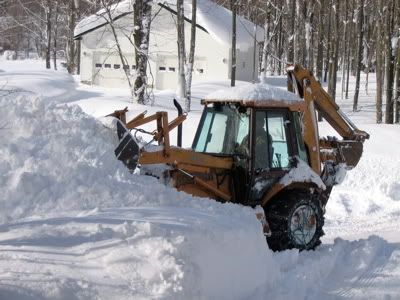 North country neighborliness. Thank you, Al!!!
Our trees are stunning. Here are some of the pines.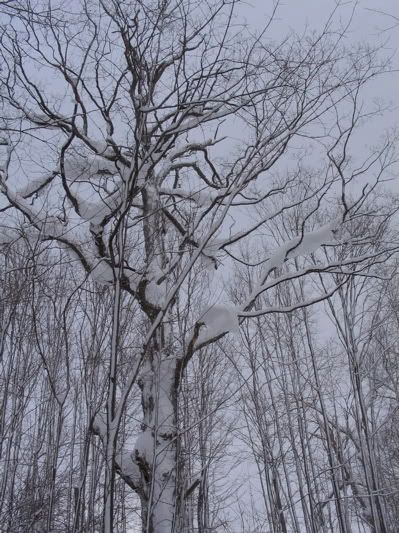 One of the old, elegant maple trees.
Another old girl.
I spent about an hour tromping around outside. I can't really explain what this weather does for me. There is something about the taste of the air when it's snowing, something in the wind that echoes deep in my bones. Winter soothes me.
Several of you have emailed me asking about my parents, which is very kind. They live in an apartment building down in the village. The plows have kept their parking lot clear so, heaven forbid, if an emergency vehicle had to fetch one of them, it could. They have food, water, phone, and heat, and are loving the front-row seat to all this snow. We could get down there on snowshoe, if necessary. Now that the driveway is getting dug out, it looks like we could drive too, though the reports we've heard from some friends in law enforcement make it clear that driving is not a smart thing to do today.
I have decided to blow off my paperwork. Some days, a girl just has to bake. We are expecting the snow to continue for several more days.