The lake effect storm machine is slowing down… a little. We were able to get down to Syracuse yesterday for the swimming sectionals competition. It felt like driving from the Arctic to Virginia. Mexico, Parish: mountains of snow. Central Square: hills of snow. Cicero, Liverpool: some snow. Syracuse….. not so much.
The weather wizards are saying that my town has more than 100 inches of snow from this "snow event". (What a dumb phrase that is.) Some said 108 inches. Some said 110. Really, people, once it's over your head, it doesn't matter. The Weather Channel has posted pics.
But it was wonderful to get in the pool area of Nottingham High School, strip off the winter clothes, and lounge around as if it were 75 degrees… because it was 75 degrees!
Very hard to tell the swimmers apart because most had shaved their heads.
There were a LOT of people there, which made it even warmer. Because of BH's knee, we sat far away from the starting blocks (those splashes? Swimmers diving in.) but we could see much better than my ancient camera can show.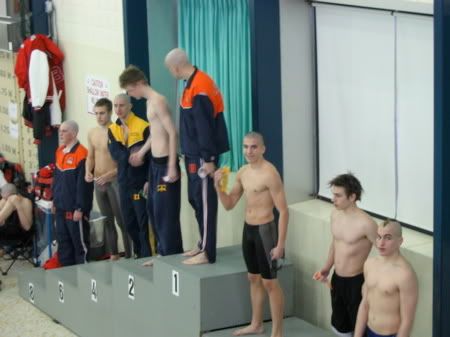 Number One Son qualified for today's finals in both of his events.
One of my favorite sights of the day – a swimmer's little sister reading Charlotte's Web.
Our portion of the meet ended in the middle of the afternoon. We layered on the tundra clothes again and headed north. The snow started falling again when we got to Parish.
By the time we got to Mexico, this is what is looked like, because yet another foot of snow had fallen in our absence.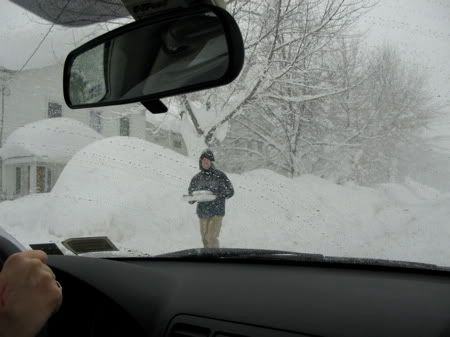 Pizza delivery, lake effect style.
A sign in the middle of downtown.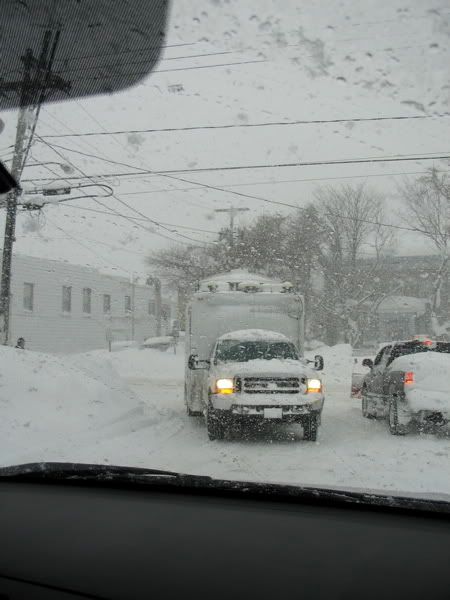 The CNN truck was wandering around, too. I bet the people covering this story for them are wondering what they did to piss off their producer.
The sun is shining right now and we aren't supposed to get anymore snow for another 24 hours. BH has been cleared to work out on the exercise bike, so we're headed to the gym for some much needed exercise before going back to the city to watch the swimming finals.
I promise I will try to post about something besides the weather this week.